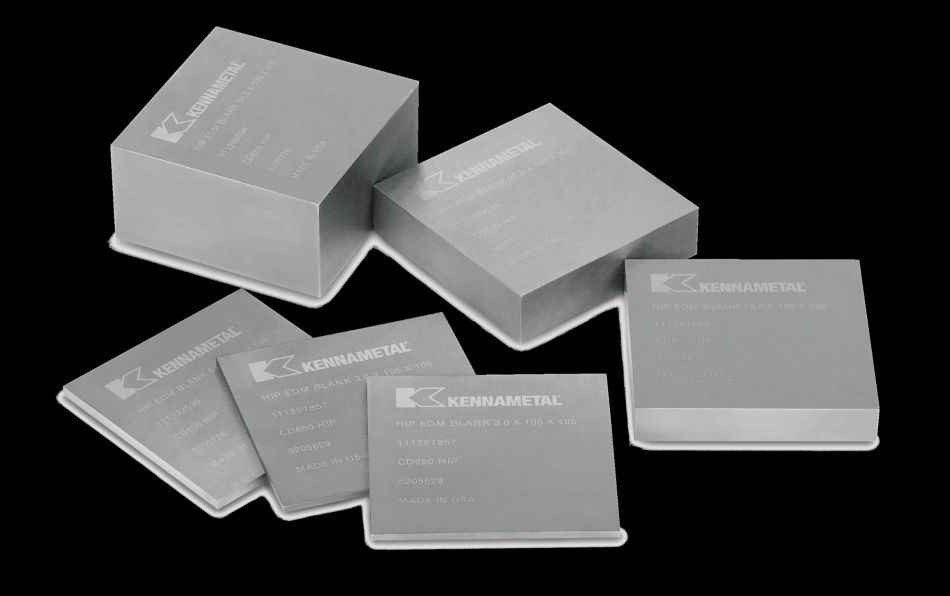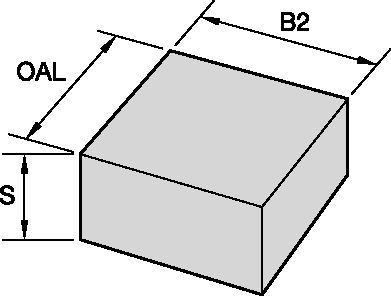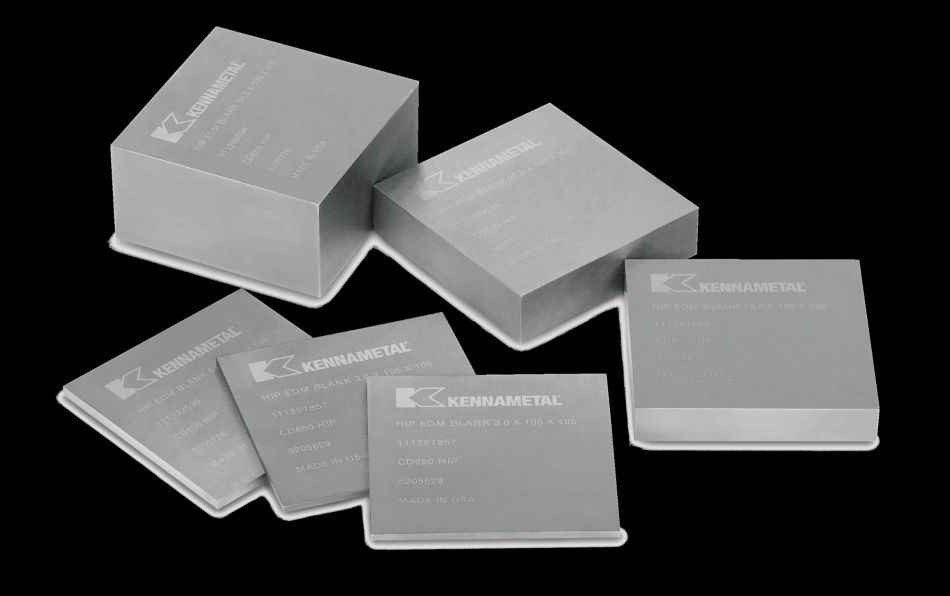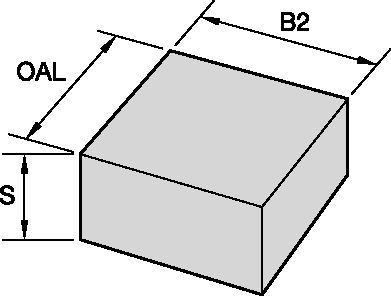 KMSB • 105 x 105mm • 4.125" x 4.125"
Standard Blocks • Metric
Features and benefits
Nominal dimensions are shown in the chart.


All blanks are provided with grinding allowance as shown in the tolerance chart.


Each block is Sinter HIP and stress relieved for EDM machining.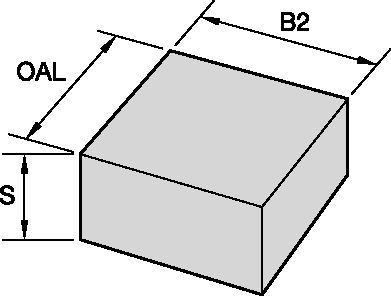 other
Display Configurable Products
No filters matching ""
Change the visible columns with any of the parameters listed below. A maximum of 7 columns can be displayed.
Displaying
1-

10
of
198
results
SAP Material Number
ISO Catalog Number
ANSI Catalog Number
Grade
[S] Block Thickness
[S] Block Thickness
[B2] Overall Width
[B2] Overall Width
[OAL] Overall Length
[OAL] Overall Length
6111986
KMSB030
KMSB030
KR887
3.000
.1180
105.000
4.125
105.000
4.125

List price:

$93.60

/each.

6117036
KMSB100
KMSB100
KR466
10.000
.3940
105.000
4.125
105.000
4.125

List price:

$279.60

/each.

5969056
KMSB030
KMSB030
KR466
3.000
.1180
105.000
4.125
105.000
4.125

List price:

$93.60

/each.

5342190
KMSB600
KMSB600
KR887
60.000
2.362
105.000
4.125
105.000
4.125

List price:

$1,842.00

/each.

6167690
KMSB035
KMSB035
KR466
3.500
.1380
105.000
4.125
105.000
4.125

List price:

$106.80

/each.

6084834
KMSB250
KMSB250
KR466
25.000
.9840
105.000
4.125
105.000
4.125

List price:

$696.00

/each.

6111987
KMSB300
KMSB300
KR887
30.000
1.181
105.000
4.125
105.000
4.125

List price:

$868.80

/each.

6306563
KMSB230
KMSB230
KR466
23.000
.9060
105.000
4.125
105.000
4.125

List price:

$633.60

/each.

5391771
KMSB090
KMSB090
KR466
9.000
.3540
105.000
4.125
105.000
4.125

List price:

$253.20

/each.

5969057
KMSB150
KMSB150
KR466
15.000
.5910
105.000
4.125
105.000
4.125

List price:

$426.00

/each.

6242292
KMSB255
KMSB255
KR887
25.500
1.004
105.000
4.125
105.000
4.125

List price:

$710.40

/each.

5969055
KMSB020
KMSB020
KR466
2.000
.0790
105.000
4.125
105.000
4.125

List price:

$67.20

/each.

6021416
KMSB650
KMSB650
KR466
65.000
2.559
105.000
4.125
105.000
4.125

List price:

$2,034.00

/each.

6306566
KMSB320
KMSB320
KR466
32.000
1.260
105.000
4.125
105.000
4.125

List price:

$926.40

/each.

6225689
KMSB200
KMSB200
KR466
20.000
.7870
105.000
4.125
105.000
4.125

List price:

$549.60

/each.

5587113
KMSB635
KMSB635
KR466
63.500
2.500
105.000
4.125
105.000
4.125

List price:

$1,980.00

/each.

6167762
KMSB060
KMSB060
KR466
6.000
.2360
105.000
4.125
105.000
4.125

List price:

$172.80

/each.

6192251
KMSB260
KMSB260
CD750
26.000
1.024
105.000
4.125
105.000
4.125

List price:

$702.38

/each.

6167761
KMSB050
KMSB050
KR466
5.000
.1970
105.000
4.125
105.000
4.125

List price:

$146.40

/each.

6306568
KMSB415
KMSB415
KR466
41.500
1.634
105.000
4.125
105.000
4.125

List price:

$1,200.00

/each.

6306572
KMSB570
KMSB570
KR466
57.000
2.244
105.000
4.125
105.000
4.125

List price:

$1,734.00

/each.

6306559
KMSB070
KMSB070
KR466
7.000
.2760
105.000
4.125
105.000
4.125

List price:

$199.20

/each.

6306592
KMSB350
KMSB350
KR887
35.000
1.378
105.000
4.125
105.000
4.125

List price:

$1,012.80

/each.

6306587
KMSB085
KMSB085
KR887
8.500
.3350
105.000
4.125
105.000
4.125

List price:

$240.00

/each.

6306574
KMSB700
KMSB700
KR466
70.000
2.756
105.000
4.125
105.000
4.125

List price:

$2,214.00

/each.

6306561
KMSB120
KMSB120
KR466
12.000
.4720
105.000
4.125
105.000
4.125

List price:

$333.60

/each.

6306593
KMSB380
KMSB380
KR887
38.000
1.496
105.000
4.125
105.000
4.125

List price:

$1,099.20

/each.

6306602
KMSB765
KMSB765
KR887
76.500
3.012
105.000
4.125
105.000
4.125

List price:

$2,448.00

/each.

6306577
KMSB890
KMSB890
KR466
89.000
3.504
105.000
4.125
105.000
4.125

List price:

$2,880.00

/each.

6306565
KMSB285
KMSB285
KR466
28.500
1.122
105.000
4.125
105.000
4.125

List price:

$796.80

/each.

6306571
KMSB550
KMSB550
KR466
55.000
2.165
105.000
4.125
105.000
4.125

List price:

$1,650.00

/each.

6225687
KMSB040
KMSB040
KR466
4.000
.1570
105.000
4.125
105.000
4.125

List price:

$120.00

/each.

6306600
KMSB635
KMSB635
KR887
63.500
2.500
105.000
4.125
105.000
4.125

List price:

$1,980.00

/each.

6306573
KMSB600
KMSB600
KR466
60.000
2.362
105.000
4.125
105.000
4.125

List price:

$1,842.00

/each.

6306575
KMSB765
KMSB765
KR466
76.500
3.012
105.000
4.125
105.000
4.125

List price:

$2,448.00

/each.

6306595
KMSB415
KMSB415
KR887
41.500
1.634
105.000
4.125
105.000
4.125

List price:

$1,200.00

/each.

5956612
KMSB015
KMSB015
KR466
1.500
.0590
105.000
4.125
105.000
4.125

List price:

$55.20

/each.

6306582
KMSB050
KMSB050
KR887
5.000
.1970
105.000
4.125
105.000
4.125

List price:

$146.40

/each.

6306604
KMSB890
KMSB890
KR887
89.000
3.504
105.000
4.125
105.000
4.125

List price:

$2,880.00

/each.

6306579
KMSB025
KMSB025
KR887
2.500
.0980
105.000
4.125
105.000
4.125

List price:

$80.40

/each.

6306585
KMSB075
KMSB075
KR887
7.500
.2950
105.000
4.125
105.000
4.125

List price:

$213.60

/each.

6306599
KMSB570
KMSB570
KR887
57.000
2.244
105.000
4.125
105.000
4.125

List price:

$1,734.00

/each.

6306562
KMSB190
KMSB190
KR466
19.000
.7480
105.000
4.125
105.000
4.125

List price:

$523.20

/each.

6306576
KMSB855
KMSB855
KR466
85.500
3.366
105.000
4.125
105.000
4.125

List price:

$2,760.00

/each.

6306596
KMSB445
KMSB445
KR887
44.500
1.752
105.000
4.125
105.000
4.125

List price:

$1,286.40

/each.

6306570
KMSB510
KMSB510
KR466
51.000
2.008
105.000
4.125
105.000
4.125

List price:

$1,470.00

/each.

6306584
KMSB065
KMSB065
KR887
6.500
.2560
105.000
4.125
105.000
4.125

List price:

$186.00

/each.

5913757
KMSB160
KMSB160
KR466
16.000
.6300
105.000
4.125
105.000
4.125

List price:

$451.20

/each.

6306588
KMSB095
KMSB095
KR887
9.500
.3740
105.000
4.125
105.000
4.125

List price:

$266.40

/each.

6306560
KMSB080
KMSB080
KR466
8.000
.3150
105.000
4.125
105.000
4.125

List price:

$226.80

/each.

6306569
KMSB445
KMSB445
KR466
44.500
1.752
105.000
4.125
105.000
4.125

List price:

$1,286.40

/each.

6306580
KMSB035
KMSB035
KR887
3.500
.1380
105.000
4.125
105.000
4.125

List price:

$106.80

/each.

6306586
KMSB080
KMSB080
KR887
8.000
.3150
105.000
4.125
105.000
4.125

List price:

$226.80

/each.

6306591
KMSB285
KMSB285
KR887
28.500
1.122
105.000
4.125
105.000
4.125

List price:

$796.80

/each.

6306598
KMSB550
KMSB550
KR887
55.000
2.165
105.000
4.125
105.000
4.125

List price:

$1,650.00

/each.

6306581
KMSB045
KMSB045
KR887
4.500
.1770
105.000
4.125
105.000
4.125

List price:

$133.20

/each.

6306597
KMSB500
KMSB500
KR887
50.000
1.969
105.000
4.125
105.000
4.125

List price:

$1,440.00

/each.

6306564
KMSB260
KMSB260
KR466
26.000
1.024
105.000
4.125
105.000
4.125

List price:

$724.80

/each.

6306567
KMSB380
KMSB380
KR466
38.000
1.496
105.000
4.125
105.000
4.125

List price:

$1,099.20

/each.

6084833
KMSB350
KMSB350
KR466
35.000
1.378
105.000
4.125
105.000
4.125

List price:

$1,012.80

/each.

6306590
KMSB125
KMSB125
KR887
12.500
.4920
105.000
4.125
105.000
4.125

List price:

$358.80

/each.

6306578
KMSB015
KMSB015
KR887
1.500
.0590
105.000
4.125
105.000
4.125

List price:

$55.20

/each.

6306601
KMSB700
KMSB700
KR887
70.000
2.756
105.000
4.125
105.000
4.125

List price:

$2,214.00

/each.

6306589
KMSB120
KMSB120
KR887
12.000
.4720
105.000
4.125
105.000
4.125

List price:

$333.60

/each.

6306583
KMSB055
KMSB055
KR887
5.500
.2170
105.000
4.125
105.000
4.125

List price:

$159.60

/each.

6306594
KMSB400
KMSB400
KR887
40.000
1.575
105.000
4.125
105.000
4.125

List price:

$1,156.80

/each.

5956613
KMSB025
KMSB025
KR466
2.500
.0980
105.000
4.125
105.000
4.125

List price:

$80.40

/each.

6302556
KMLB500
KMLB500
KR855
50.800
2.000
101.300
3.988
151.600
5.968
6302559
KMLB120
KMLB120
KR855
12.000
.4724
101.300
3.988
151.600
5.968
6302557
KMVB620
KMVB620
KR855
63.200
2.488
71.200
2.803
201.700
7.940
6302558
KMLB080
KMLB080
KR855
8.500
.3346
101.300
3.988
151.600
5.968
6118059
KMLB100
KMLB100
KR855
10.500
.4134
101.300
3.988
151.600
5.968
6210884
KMLB060
KMLB060
KR466
6.500
.2559
101.300
3.988
151.600
5.968

List price:

$320.00

/each.

6118058
KMLB060
KMLB060
KR855
6.500
.2559
101.300
3.988
151.600
5.968
6134306
KMLB500
KMLB500
KR466
50.800
2.000
101.300
3.988
151.600
5.968

List price:

$1,500.00

/each.

6207231
KMLB100
KMLB100
KR466
10.500
.4134
101.300
3.988
151.600
5.968

List price:

$415.00

/each.

6134302
KMLB200
KMLB200
KR466
20.500
.8071
101.300
3.988
151.600
5.968

List price:

$700.00

/each.

6118060
KMLB200
KMLB200
KR855
20.500
.8071
101.300
3.988
151.600
5.968
6118102
KMLB300
KMLB300
KR855
30.600
1.204
101.300
3.988
151.600
5.968
6210886
KMLB120
KMLB120
KR466
12.000
.4724
101.300
3.988
151.600
5.968

List price:

$470.00

/each.

6134303
KMLB300
KMLB300
KR466
30.600
1.204
101.300
3.988
151.600
5.968

List price:

$1,010.00

/each.

6210885
KMLB080
KMLB080
KR466
8.500
.3346
101.300
3.988
151.600
5.968

List price:

$375.00

/each.

6207232
KMVB620
KMVB620
KR466
63.200
2.488
71.200
2.803
201.700
7.940

List price:

$1,815.00

/each.

5205766
KMSB210
KMSB210
CD650
21.000
.8270
105.000
4.125
105.000
4.125

List price:

$578.40

/each.

5205767
KMSB220
KMSB220
CD650
22.000
.8660
105.000
4.125
105.000
4.125

List price:

$600.00

/each.

5205771
KMSB260
KMSB260
CD650
26.000
1.024
105.000
4.125
105.000
4.125

List price:

$724.80

/each.

5205774
KMSB400
KMSB400
CD650
40.000
1.575
105.000
4.125
105.000
4.125

List price:

$1,156.80

/each.

5205769
KMSB240
KMSB240
CD650
24.000
.9450
105.000
4.125
105.000
4.125

List price:

$667.20

/each.

5205772
KMSB300
KMSB300
CD650
30.000
1.181
105.000
4.125
105.000
4.125

List price:

$868.80

/each.

5205770
KMSB250
KMSB250
CD650
25.000
.9840
105.000
4.125
105.000
4.125

List price:

$696.00

/each.

5205775
KMSB450
KMSB450
CD650
45.000
1.772
105.000
4.125
105.000
4.125

List price:

$1,300.80

/each.

5205776
KMSB510
KMSB510
CD650
51.000
2.008
105.000
4.125
105.000
4.125

List price:

$1,470.00

/each.

5205768
KMSB230
KMSB230
CD650
23.000
.9060
105.000
4.125
105.000
4.125

List price:

$633.60

/each.

5205773
KMSB320
KMSB320
CD650
32.000
1.260
105.000
4.125
105.000
4.125

List price:

$926.40

/each.

5315128
KMSB075
KMSB075
KR466
7.500
.2950
105.000
4.125
105.000
4.125

List price:

$213.60

/each.

5315127
KMSB065
KMSB065
KR466
6.500
.2560
105.000
4.125
105.000
4.125

List price:

$186.00

/each.

5315170
KMSB095
KMSB095
KR466
9.500
.3740
105.000
4.125
105.000
4.125

List price:

$266.40

/each.

5315129
KMSB085
KMSB085
KR466
8.500
.3350
105.000
4.125
105.000
4.125

List price:

$240.00

/each.

5315125
KMSB045
KMSB045
KR466
4.500
.1770
105.000
4.125
105.000
4.125

List price:

$133.20

/each.

5315126
KMSB055
KMSB055
KR466
5.500
.2170
105.000
4.125
105.000
4.125

List price:

$159.60

/each.

5315172
KMSB125
KMSB125
KR466
12.500
.4920
105.000
4.125
105.000
4.125

List price:

$358.80

/each.

5315173
KMSB145
KMSB145
KR466
14.500
.5710
105.000
4.125
105.000
4.125

List price:

$411.60

/each.

5315171
KMSB105
KMSB105
KR466
10.500
.4130
105.000
4.125
105.000
4.125

List price:

$292.80

/each.

5315178
KMSB605
KMSB605
KR466
60.500
2.382
105.000
4.125
105.000
4.125

List price:

$1,872.00

/each.

5315177
KMSB555
KMSB555
KR466
55.500
2.185
105.000
4.125
105.000
4.125

List price:

$1,698.00

/each.

5315176
KMSB535
KMSB535
KR466
53.500
2.106
105.000
4.125
105.000
4.125

List price:

$1,590.00

/each.

5315175
KMSB255
KMSB255
KR466
25.500
1.004
105.000
4.125
105.000
4.125

List price:

$710.40

/each.

5315174
KMSB205
KMSB205
KR466
20.500
.8070
105.000
4.125
105.000
4.125